These instructions are for Rose-Hulman Institute of Technology, but might be applicable elsewhere.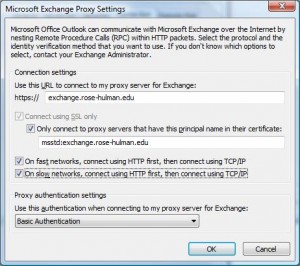 Install the Rose-Hulman root certificate (.cer): 1. Double click the .cer file
Choose 'Install certificate' which will start the certificate import wizard.
On the 'Certificate Store page,' do not choose the default 'Automatically select the certificate store,' instead choose 'Place all certificates in the following store.' Hit 'Browse' and then select 'Trusted Root Certification Authorities.'
Then 'OK,' 'Next,' 'Finish,' and 'Yes.'
Open Outlook
Click Tools->Account Settings
Select the account with type "Exchange" and click Change
Click More Settings
Select the Connection tab
Check the box to "Connect to Microsoft Exchange using HTTP"
Click Exchange Proxy Settings
Configure the Exchange Proxy Settings to match the picture above.
Click OK/Next to close all dialog boxes
Restart Outlook and login with username@rose-hulman.edu and password combination.